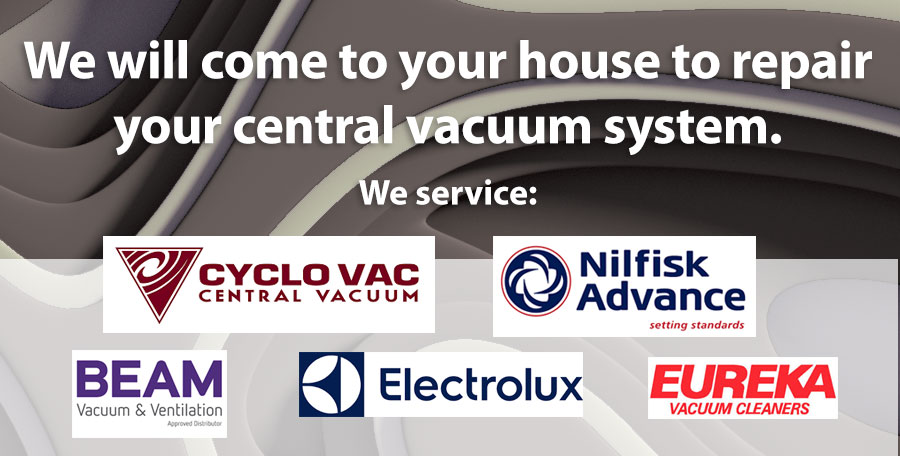 At Advantage Vacuums, we can help you repair your central vacuum system and make it work like it was brand new.
We offer a mobile central vacuum repair service, and will come to your home in Vancouver, Richmond, North Vancouver, Burnaby (anywhere in Lower Mainland) as well as Nanaimo and surrounding areas to provide central vacuum system repairs for the following brands:
Electrolux
Cyclo Vac
Nilfisk
Eureka
Beam.
When to Call for Central Vacuum Repair Vancouver
Call Advantage Vacuums if your central vacuum system isn't performing or cleaning well, and we can come have a look.
We charge a fair service fee for the home visit ($80 + tax), and you'll get our honest opinion and estimate for repair costs.
We like to try to repair central vacuums vs. replace them, if possible. It's better for the planet, and you! Most central vacuum systems work properly for 15-20 years before they need repair or replacement.
Central vacuum systems do not require yearly maintenance. If someone is offering to sell you a yearly maintenance package for your central vacuum system, you likely do not need it. Call us to discuss.
We offer 1 year guarantee on parts.
Why Choose Advantage for Central Vacuum Repairs Vancouver?
We provide honest advice and good service for central vacuum system repairs Nanaimo and Vancouver for Electrolux, Cyclo Vac, Nifish, Eureka and Beam central vacuums.
Advantage Vacuums also services almost every make and model of portable vacuum on the market at our vacuum repair shop at 5747 West Boulevard in Vancouver. You name it and we fix it!
There are two main ways you can get you can get your central vacuum repair completed:
Call us (preferred!) at 604-261-1134 (Lower Mainland) and 250-753-2822 (Nanaimo/area) during our open hours and talk to a vacuum repair specialist. See the hours we're open >>
Fill out the form below to get your free repair estimate.
We look forward to speaking with you soon! Interested in cleaning tips? See our vacuum blog >>